Main section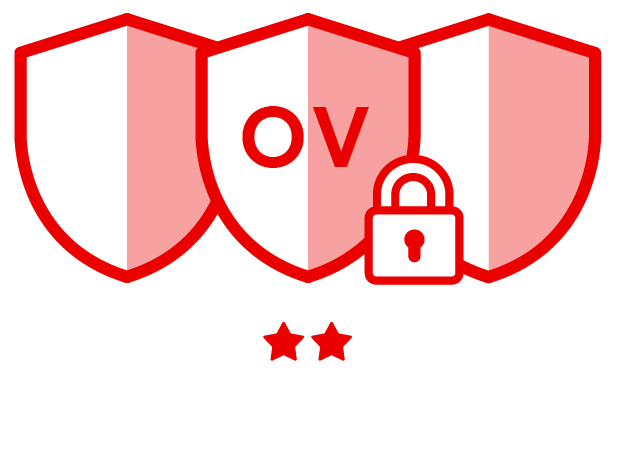 OV SSL Gold Multi-Domain
Validation level: Organisation validation
Number of domains: Up to 20 different domains
Protection with and without 'www' is included.
Please note: SwissSign must implement a new standard for e-mail certificates, the S/MIME BRG. As a consequence, SwissSign will have to generate the password to protect your key in case of provider-side key generation. In addition, the message confirming possession of the e-mail address is now only valid for 24 hours. The new requirements were implemented on 24 July 2023.
Description
Product details
Verification of identity: Domain, applicant and organisation
Issue time within 1 to 2 working days after application
Wildcard entries are possible with the option Multi-Domain
Duration: 1 year
License can be used on an unlimited number of servers
Warranty 100'000 CHF
Entry of organisation (e.g. company) in the certificate
Wildcard entries are possible with the option Multi-Domain
Full reimbursement within 30 days of issue
Internationalised domain name (IDN) possible
The certificate can also be obtained via Managed PKI
Telephone and e-mail support in English, German and French
After the Sale of the certificate the SwissSign seal is provided in the customer login
Multi-year certificates
With multi-year certificates, you will benefit from attractive discounts. However, the validation and request for the certificate must be made annually despite the multi-year term.
Advice
The SSL Gold Certificate is also available as a Wildcard Certificate.
For orders with multiple domains (Multi-Domain) the free of charge protection of domains with and without "www" is not included. Please define your domain entries one by one.
Technical details
Recognised root CA
Signature algorithm sha256WithRSA
Public Key following RSA (Rivest, Shamir, Adleman) is authorized, requirements:
- RSA key length 2048, 3072 or 4098 Bit
- Asymmetric key exchange with modern "Perfect Forward Secrecy"
- Legacy RSA encryption is also possible
Compatible with all symmetric encryption algorithms for SSL/TLS with key length up to 256 Bit
Key use: Digital signature, key encipherment, client authentication, server authentication
Distribution on all common browsers and platforms. See Compatibility
DNS CAA policies will be followed before authorization of the request
Validation with OCSP and CRL
OCSP stapling should be configured on the web server
User account for certificate management
Revocation service for the revoking of certificates
Notification 30 days and 10 days prior to expiry of validity
Application-specific entries in the certificate:

CN = common name: domain name FQDN (mandatory)
O= organisation (mandatory)
C = country (mandatory)
L = location (mandatory if there is no ST attribute)
ST = canton, federal state (mandatory)
SAN (SubjectAlternativeName) domain name same as in the Common name, optional entry with prepending www in case only a certificate with one domain entry was selected. With the option Multi-Domain additional domain or subdomain entries with additional domains or Wildcard entry
Further applicant-specific entries are not permitted and are removed from a CSR.​​​​​​​
Policy
All applicable policies for public SwissSign certificates are published on the "Support\Repository" page. The policies specific to this certificate type are listed on the corresponding subpage.​​​​​​​
Please submit the following documents by post
Original copy of the signed application form. You will receive this automatically via e-mail after redeeming the license at www.swisssign.net.
Copies (front and reverse) of a passport or identity card (Switzerland, Liechtenstein or EU) belonging to the applicant
For public institutions: Excerpt from the Federal State Calendar or other proof of the organisation's existence on request. In general, a commercial register excerpt is not required.
Copies (front and reverse) of a passport or identity card (Switzerland, Liechtenstein or EU) belonging to the authorised signatory(ies) and/or co-signatory(ies) in accordance with the commercial register / Federal State Calendar.​​​​​​​
Information
For requests outside Switzerland: In order to minimise the time and resources required in connection with unsuccessful requests, please send a scan of the above-mentioned documents to the following address for clarification in advance: [email protected].
Language: Please submit your documents in German, English or French. Documents in other languages or composed using non-Latin characters must be translated into one of the three mentioned languages and the translation must be notarised. To this end, organisations based outside the EU and Liechtenstein again also require notarisation based on the Hague Apostille.
Should you wish to request several Gold-level certificates, you can use your organisation's or domain owner's authorisations: authorisations (PDF, 168 KB)
SwissSign should be allowed to issue certificates for your domains according to the DNS entry (CAA policy)